http://residentholdings.com/?et_core_page_resource=et-core-unified-cached-inline-styles96 Rima Cherfane, whose innovative use of craftmanship is broadening the definition of couture, talks to VPRCOM Magazine about her mission to expand the label worldwide and outside boundaries of couture by combining tradition and craftsmanship, handwork and modern fabrics.
From T-shirt to Bride, from bedroom to evening, "RIMA CHERFANE" is a label that is addressed to the passionate modern women of today. The label is designed to have it all: it will take the woman that wears it through different occasions on a high level of style created to give her a statement appearance and have her remembered anywhere she goes . From Resort to Streetwear couture, from Athleisure to Red Carpet up to Bridal, RIMA CHERFANE, is a bubble that you will enjoy being in.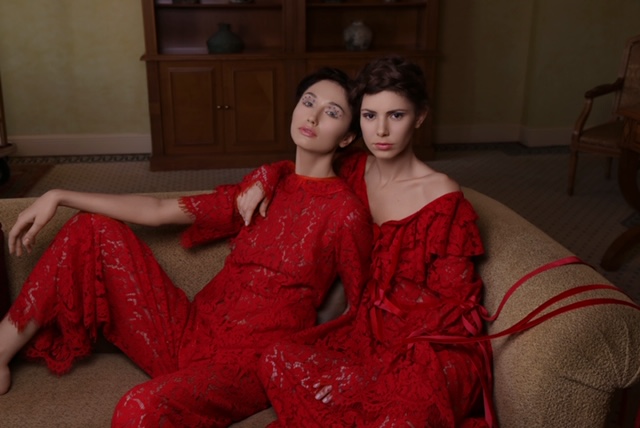 From the beginning, Rima Cherfane's signature has been painstaking craftsmanship, but over time her label expanded exponentially. As the designer prepares to expand her label worldwide, she took time to answer few questions to understand better her mission.
An exclusive Marana interview with RIMA CHERFANE
neurontin 300 mg gabapentin How does your brand position itself on the international market?
Mine is a small brand , very young still , but it's quite appealing to women from all over the globe. It did very well in Paris Fashion Week 2019 , where I first launched it. It was different they said and this was quite satisfying as I was showcasing it next to my previous corporate clients who had already a fair share of the market. I have found my position in being "different" and it was for me a real satisfaction, to have come back to my own stamina after having designed for other brands for such a long time.
reliable site to buy Clomiphene How the brand was born and how many people are involved in the team now?
I used to design for other brands for a long time. One day , I just stopped willing to draw collections that were just market and price driven , with not much place for innovation. The woman i wanted to design for has changed and the market of the brands I used to work for was saturated . It was no longer challenging.
" I felt the urge to do what I felt like doing. Search for another woman , a more complicated one. More sophisticated, more modern."

– RIMA CHERFANE
What do you think is the biggest challenge for a young brand right now?
Challenge is the same one since forever for every starting brand. It's always and will always be about innovation. Though some labels have been created in the last decade to copy existing ones with lower prices and higher quantities , eradicating the word of exclusivity, making that the era of ready-to-wear and fast fashion, with every brand personality fading further and further into consumerism identity.
But this has just changed after COVID19. In a catastrophic way for some, but in an intrinsic way for others. Hopefully, the fashion industry like the rest of our Planet can finally breath now and make way for young emerging talents, offering "made with love" products.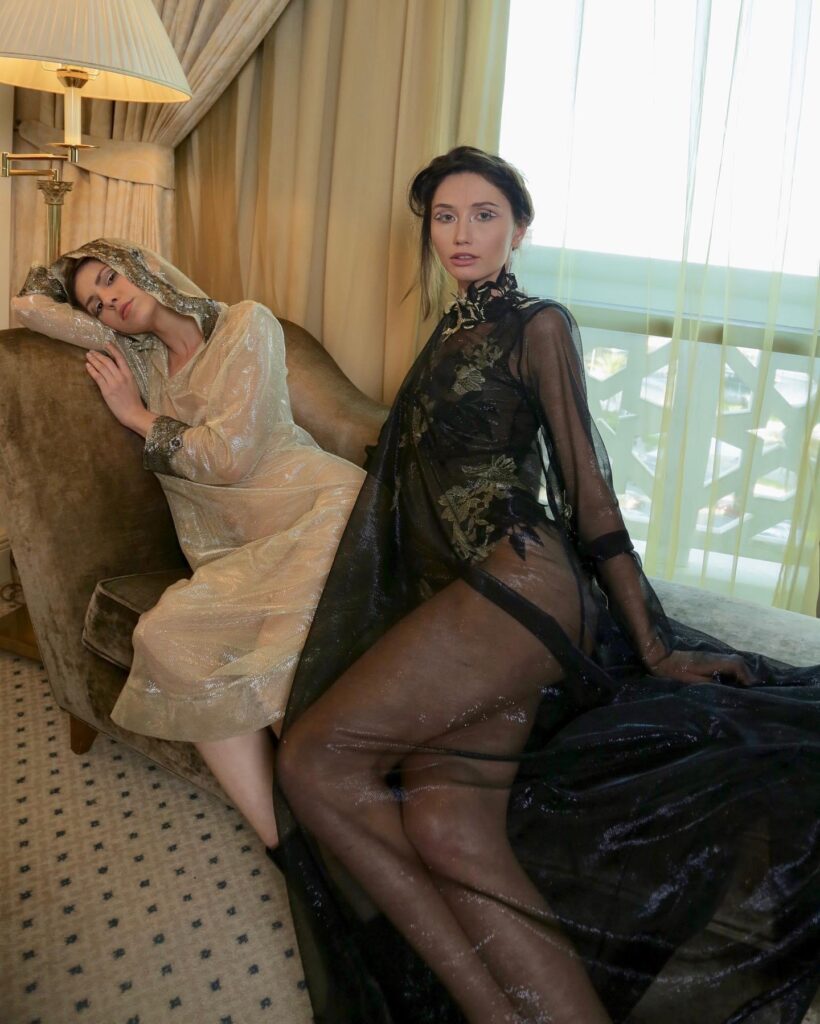 How do you want to achieve the long-lasting concept for your brand?
The brand RIMA CHERFANE is a part of my life. It learned the secrets of all the labels I worked for before I launched it. I have learned from their approaches to the market , their own stories, what worked for them and what didn't, how hard they had to work.
I think I am where I am now and it is still a very young stage for the labeI. I am enjoying the ride , enjoying the feedback, not really planning to make it a flourishing business , just planning to breath from what I love doing most: creating .
I believe this way is a sure way to keeping the label in the artistic mold, not the industrial commercial one.
How do you determine what is durable design?
A durable design is a design I cannot keep thinking about before making it real. It gets an on-going impersonal critic from myself before i decide to execute it. Finally, just about time, I would burst into my workshop eagerly excited to start making the pattern. It is pretty magical to remove it from my mind and actually touch it when I finish. It is thrilling no matter how hard sometimes it gets to make the idea come to life. It is always rewarding especially if I continue to love it, as it sits there, every day, in front of me.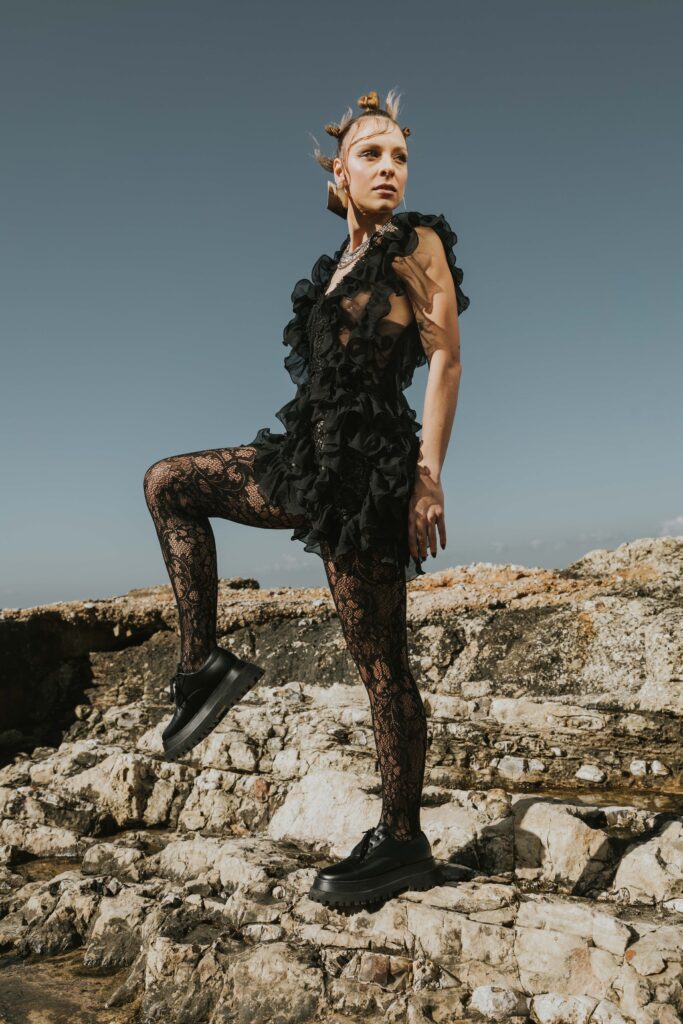 What happens to that part of a production that does not get sold?
As I only produce upon order, usually the samples that remain are considered as a pillar of my workshop. They become part of the family. Something we all worked on.
How far do you go in terms of sustainability?
I go all the way. I produce only upon request.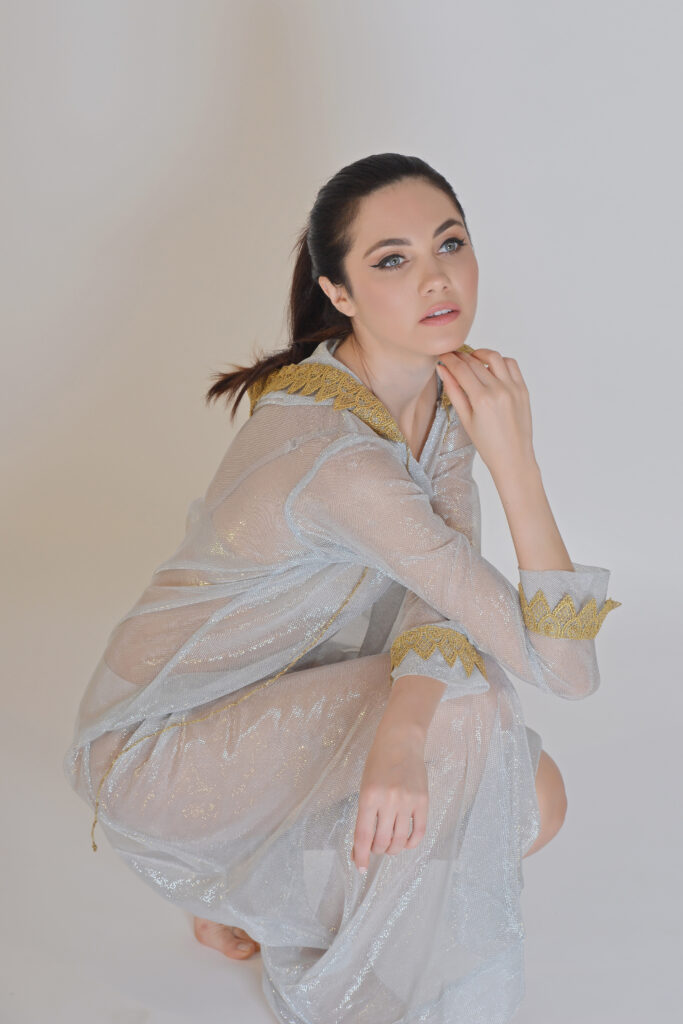 Where could you serve as a role model for others?
Mine is an honest label. I build a human to human model, not a business to business one. The final consumer is my customer, and I love to get them involved in the designing process.
How fashion industry nowadays can help more the creatives?
It should really reinvent itself and stay away from consumerism , in order to make creativity bloom. Otherwise its a copy paste module.
Can you tell us a little bit about your references for the Spring/Summer 2020 Collection?
Before COVID19 , it was gonna go crazy, a fast and furious kind of mood board.
After COVID19, the mood board changed into safe and quarantined !
I am giving it time , just enough to see where my client is going to socialize , which parties will she attend to, what kind of gatherings she will have, its very uncertain. But fabulous will always be in demand, wether alone or out and about, so I will keep on drawing around that mood for sure.
How do you want people to feel when they wear your clothes?
I like to think that my clothing line offers a mood booster from rather good to really fabulous.
Which was your best-selling piece from your Fall/Winter 2019 Collection?
The Regina dress was one of the best selling pieces as it has really made a world voyage to different countries, it was sold in different colors and its still trending.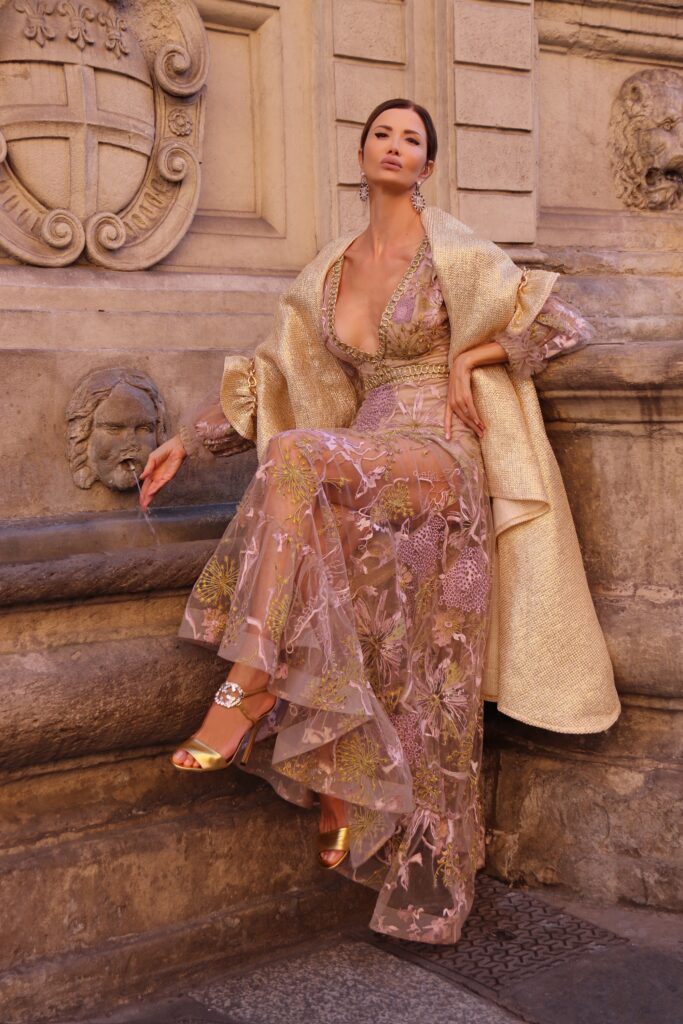 How do you choose the agencies that represent your brand for sales and press office?
I look at their portfolio first , see the brands they carry and level wether my brand can fit into their mold .
Actually I'm very cautious in the way that they will be the voice of my brand , so my voice for that matter and at my age , it shouldnt go wrong. It's almost like a decision of getting married .
What advice can you give to young designers regarding the sales?
I would say take it easy. If they can afford it. A brand can go very wrong if it is only sales oriented, it could looses its identity and forget its character .