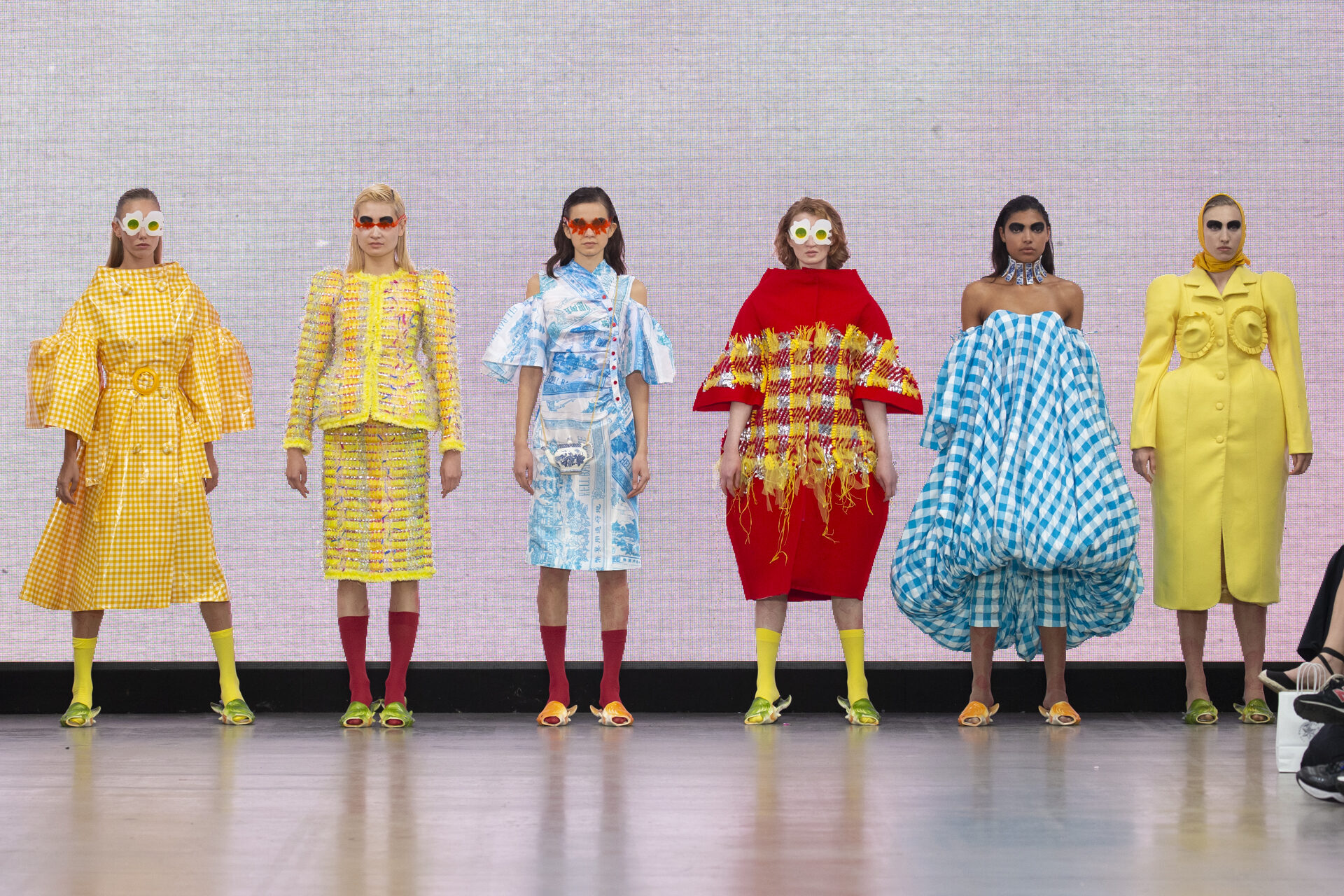 buy real cytotec Before the arrival of the heat of the summer, the fashion scene offers one of the most interesting and exciting exhibitions: the graduates shows. My favourite part of the year!
The result of long learning, tones of illusions and passionate hard work at the disposal of a hungry audience. And I state hungry as in the midst of these presentations there are a lot of head hunters from the main brands, looking for new talents to adopt.
Also, the press takes part in these students' shows as there is where the purest creativity is breathed. A huge challenge that might mean the beginning of a new designer. And the Graduate Fashion Week isthe beginning of many dreams.
More and more these events are gaining visibility into the industry and massive support from the social media followers. But such expectation is still far away for being long lasting support. Those talents, the work done inside the schools deserve our permanent attention. In the middle of a huge crowd of talented dreamers there was one who captured my entire attention. YEN WONG, from the University of Brighton, UK.
During the last three years, Yen has accompanied her studies collaborating for other brands such as Marta Jakubowski, Christopner Kane and Marques Almeida. Her experience as an intern has helped Yen to gain a wide transversal experience about the fashion industry. That how she learned to manage lookbooks, deal with buyers and suppliers, document simples for garment technologist's reference.
Yen also learned first the art of tailoring, cutting and the stress of a fashion show. When asking Yen about how fashion entered into her life, she states: "Fashion came into my life initially through the influence of my mom, she loves a good bargain and I remember vividly going to the local boutique with her as a child.
My love for theatre costumes and anime growing up also had a large influence on fashion in my life. This sort of enabled fashion design to linger in my head for quite a while. It wasn't until college where I actively knew people who were sure about pursuing fashion design and working alongside/with them, did I actually consider actively pursuing fashion design".
What is amazing is how all these acquired expertises are slowly cooked inside a designer's soul, mixing with life experiences and heritage, so as to develop a very personal collection.
With "Sunny Side UP" Yen Wong offers us a funny and colourful SS20.
In Yen's words
"Sunny Side Up" is an exploration of kitsch, humour and oddity, looking at the idea of (im)perfect women as caricatures of themselves, referencing the 50s- early 60s woman and fashion as my initial source whilst incorporating personal elements from my Malaysian-Chinese upbringing, translating it into vibrant and bold womenswear."
When you see the looks, models remind you the innonce and determination of Doris Day's characters.
"The concept of the collection initially explores a specific type of woman, a woman whom I generally associate with the post-war 1950s. She is the perfect woman, mom and housewife, who puts her make up on before her husband wakes in the morning and whilst succumbing to societal pressures, she eventually has a mental breakdown. Perfection is still expected of women today and personally, I feel these expectations placed upon myself".
A rare inspiration coming from a Malaysian millenial, isn't? And here is where the magic of heritage and creativity explotes.
"Juxtaposing the very westernised 50s ideal woman, the collection also explores my Malaysian-Chinese cultural heritage, incorporating odd and kitsch aspects of my personal upbringing like blue and white china, Chinese name seals and over the top tomb cleaning traditions. The combination of the two elements create an absurd and surreal perspective of 50s femininity and Chinese culture".
Such cocktail also requires a relevant attention into details and fabrics, in order to achieve a brave critical vision about fashion.
"There is a strong emphasis on material and textile in my collection. I played with the idea of disposability and "cheap and chic"/cheap luxury, hand-weaving my own kitschy tweed using unlikely, synthetic and quite disposable materials such as scoobies, Christmas decor and woven polypropylene to portray cheap luxury and displaced them alongside actual luxury fabrics such as Melton wool, applying them to high-end 50s silhouettes. Aside from weaving, there's a graphic element with the textiles in form of print, making my own digital prints to be printed on fabric. The prints are taken and referenced from my Chinese heritage and are scaled in and out of proportion as well as manipulated in colour".
The importance of sustainability is a concept Yen strongly considers and confess its relevance within the students:
"In regards to sustainability, I think it is super important that new talents, especially students have greater interest in it. We are the pioneers of the future of fashion and unless, we do our part in making fashion more ethical, there won't be an industry for very much longer".
On the opposite side, there is the damage caused by fast fashion
"Fast fashion in general and their attempts to replicate runway trends as well as public demand for replica logos".
Coming from Malaysia and his Chinese heritage, I love to know his opinion regarding the incredible development of Asian fashion industry and its power.
"In regards to the fashion scene, they have really stepped up their game. Personally speaking, Shanghai has over taken Tokyo as East Asia's fashion capital. The amount talent emerging from and as going there at the moment is insane!".
After the exciment of the show and the end of the classes, there comes thoughts regarding near future. How Yen Wong sees herself? What are your dreams and goals?
"Ok you've put me on the spot now!
I feel like my dreams aren't big enough! Ideally, in the next 3 years, I would like to be in a solid job in the fashion industry. Paris is the goal but anywhere with a job is really what I'm looking for! I'm very making and technique orientated so the dream would be to apprentice within tailoring in a couture house. Doing an MA in Fashion has also crossed my mind but only when I've spent more in the industry and am more financially stable!".