See the light with urban fashion photography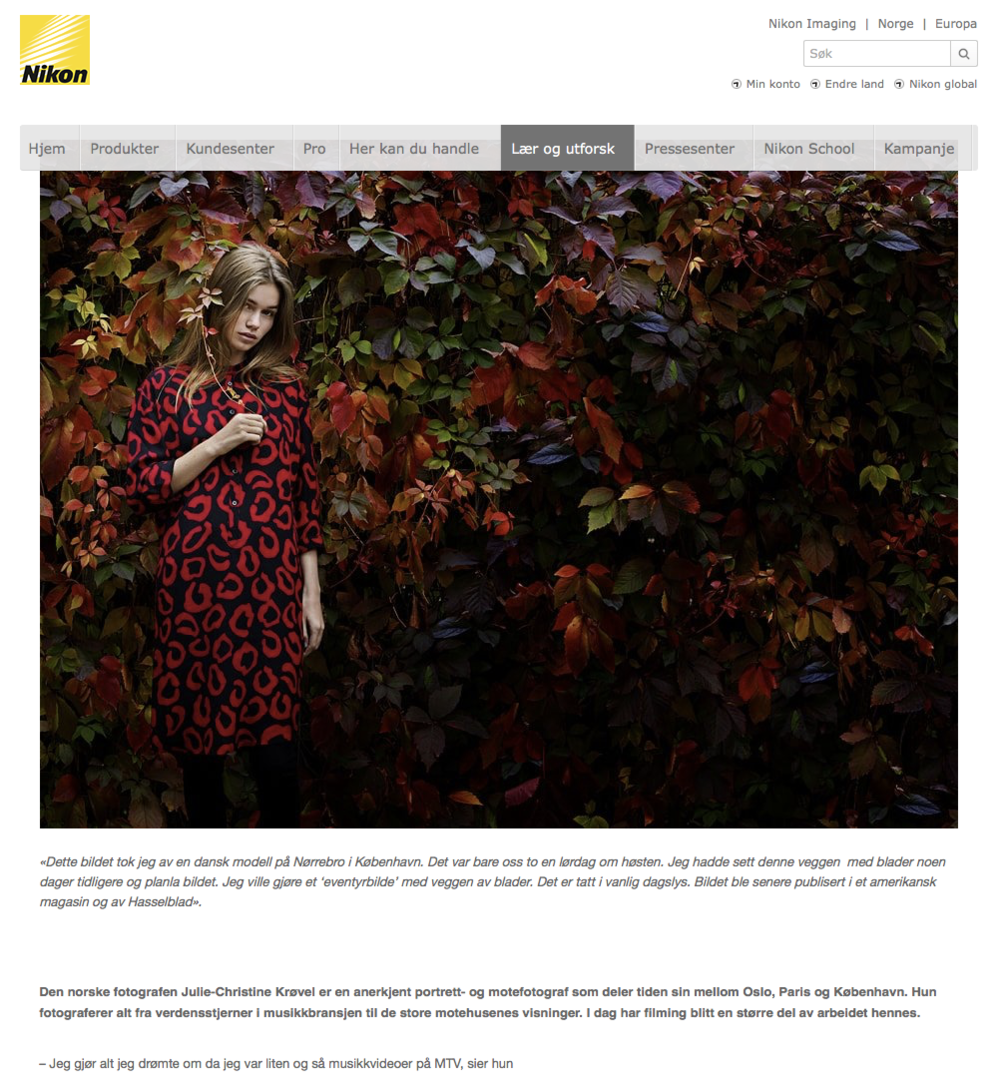 http://acabuyinggroup.com/category/uncategorized/ Photo by Julie Krøvel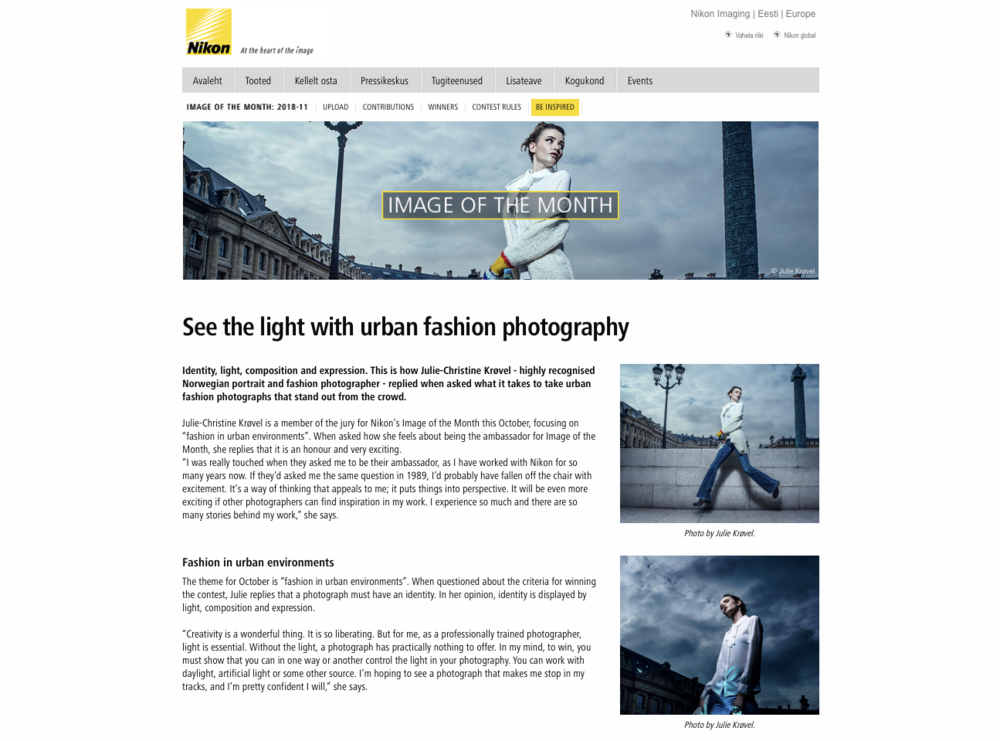 Identity, light, composition and expression. This is how Julie-Christine Krøvel – highly recognised Norwegian portrait and fashion photographer – replied when asked what it takes to take urban fashion photographs that stand out from the crowd.
Julie-Christine Krøvel is a member of the jury for Nikon's Image of the Month this October, focusing on "fashion in urban environments". When asked how she feels about being the ambassador for Image of the Month, she replies that it is an honour and very exciting.
"I was really touched when they asked me to be their ambassador, as I have worked with Nikon for so many years now. If they'd asked me the same question in 1989, I'd probably have fallen off the chair with excitement. It's a way of thinking that appeals to me; it puts things into perspective. It will be even more exciting if other photographers can find inspiration in my work. I experience so much and there are so many stories behind my work," she says.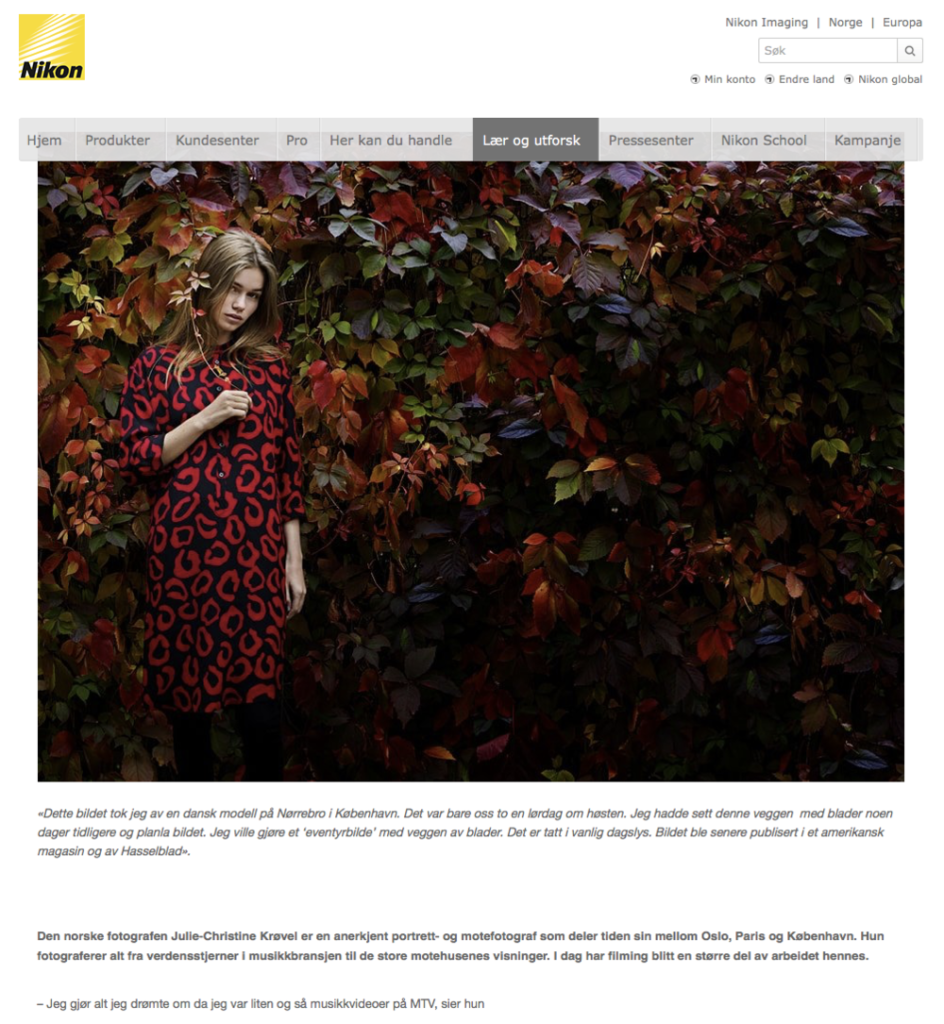 Photo by Julie Krøvel.

Fashion in urban environments
The theme for October is "fashion in urban environments". When questioned about the criteria for winning the contest, Julie replies that a photograph must have an identity. In her opinion, identity is displayed by light, composition and expression.
"Creativity is a wonderful thing. It is so liberating. But for me, as a professionally trained photographer, light is essential. Without the light, a photograph has practically nothing to offer. In my mind, to win, you must show that you can in one way or another control the light in your photography. You can work with daylight, artificial light or some other source. I'm hoping to see a photograph that makes me stop in my tracks, and I'm pretty confident I will," she says.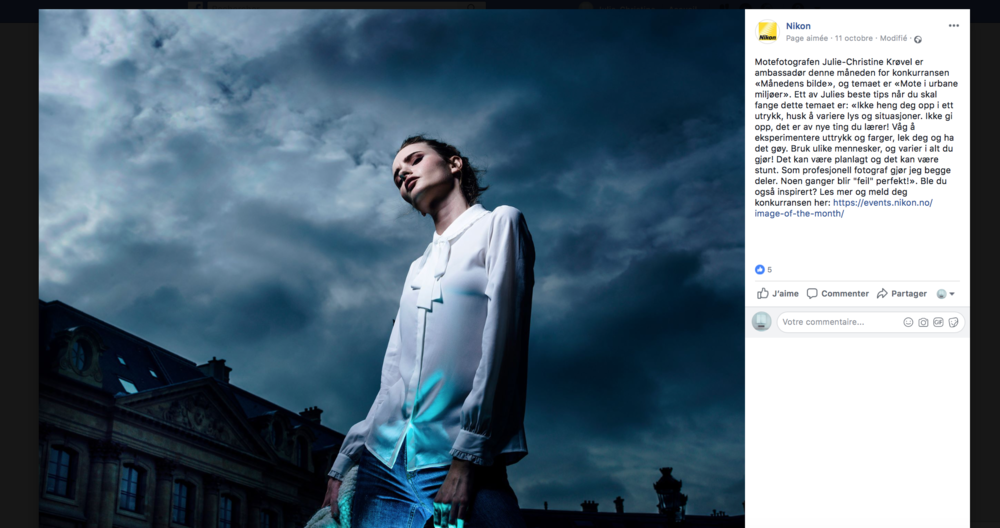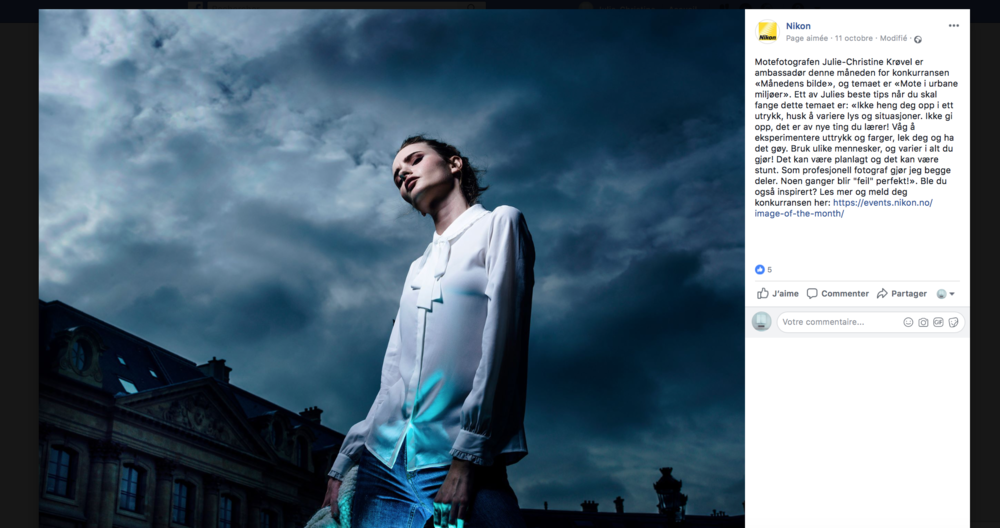 Photo by Julie Krøvel.

Not outfit of the month
For Julie, fashion photography has nothing to do with the best outfit. Even though the focus is on the clothes or fashion, it is how you tell the story that counts. In other words: how an outfit can be immortalised and you can create a fashion photograph that is still as wonderful to look at ten years from now.
"It may happen quickly or it could also take time. That's what I love about photography. There was this one time when I took the shot for the front page of a magazine in less than three minutes. There was no point taking any more shots, the first one was just right. Hopefully, I'll see that kind of spontaneous photography now," she says.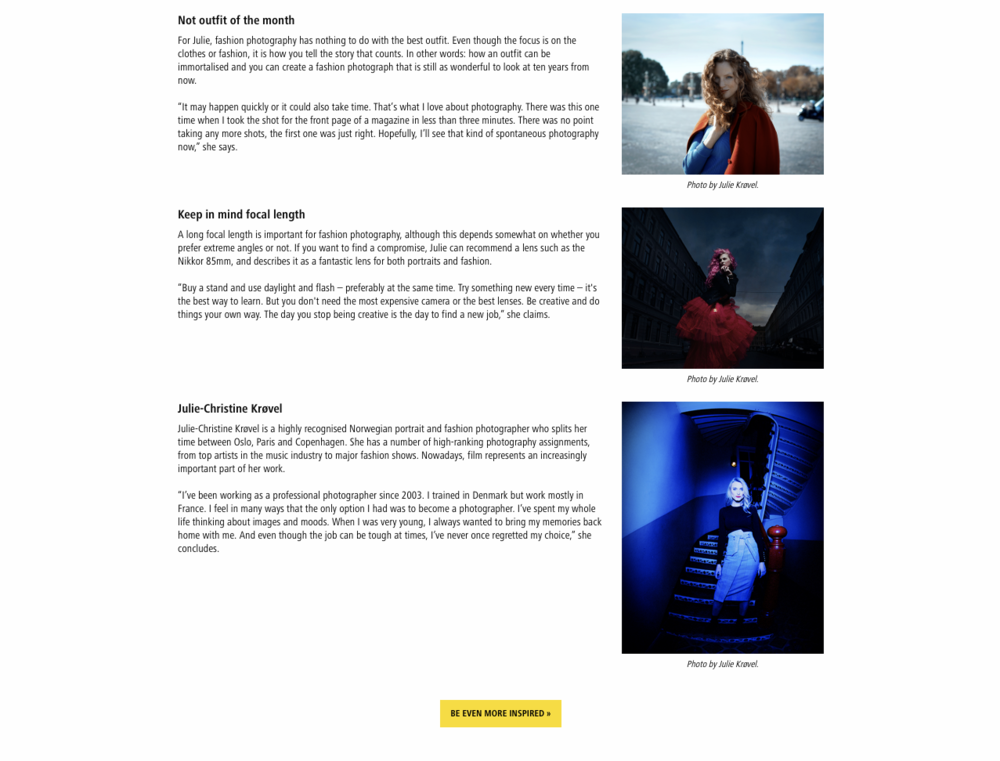 Photo by Julie Krøvel.

Keep in mind focal length
A long focal length is important for fashion photography, although this depends somewhat on whether you prefer extreme angles or not. If you want to find a compromise, Julie can recommend a lens such as the Nikkor 85mm, and describes it as a fantastic lens for both portraits and fashion.
"Buy a stand and use daylight and flash – preferably at the same time. Try something new every time – it's the best way to learn. But you don't need the most expensive camera or the best lenses. Be creative and do things your own way. The day you stop being creative is the day to find a new job," she claims.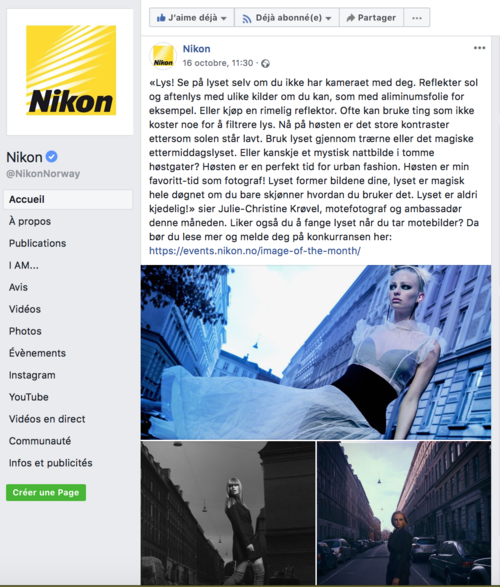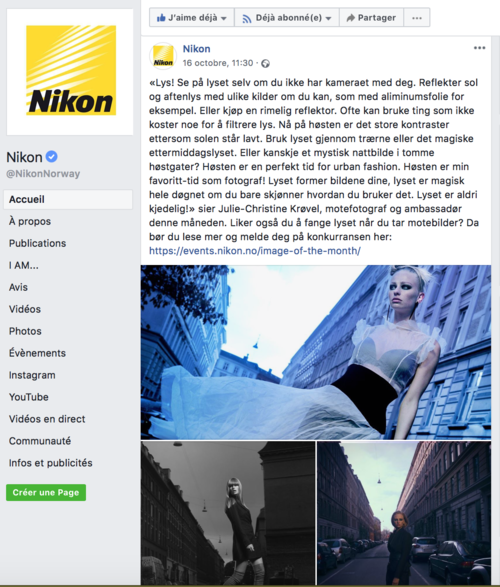 Photo by Julie Krøvel.

Julie-Christine Krøvel
Julie-Christine Krøvel is a highly recognised Norwegian portrait and fashion photographer who splits her time between Oslo, Paris and Copenhagen. She has a number of high-ranking photography assignments, from top artists in the music industry to major fashion shows. Nowadays, film represents an increasingly important part of her work.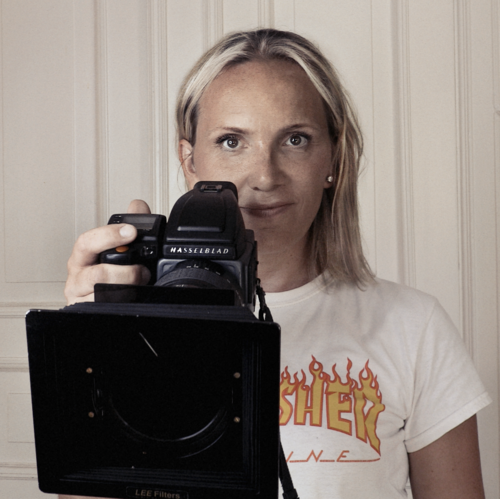 "I've been working as a professional photographer since 2003. I trained in Denmark but work mostly in France. I feel in many ways that the only option I had was to become a photographer. I've spent my whole life thinking about images and moods. When I was very young, I always wanted to bring my memories back home with me. And even though the job can be tough at times, I've never once regretted my choice," she concludes.